Collection: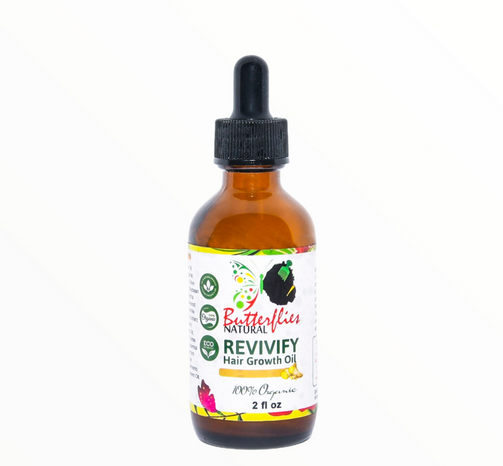 Collection:
Revivify Hair Growth Oil
Revivify Hair Growth Oil
Regular price

$30.00

Sale price

$20.00
Tax included.
REVIVIFY HAIR GROWTH OIL: 
For all hair that is damaged due to aggressive styling or heat application. This is the perfect treatment to revitalize your hair and help it grow! The hair growth oil penetrates the scalp from the tip of the hair shaft supplying nutrients needed to strengthen the hair follicles. It's great for Telogen Effluvium, shedding, bald spots, breakage, dry scalp, dandruff, and more! Also, great for mustache, beard, eyebrows and safe for children and babies.
Ingredients: Organic Sunflower Oil, Organic Hemp, Organic Jojoba, Extra Virgin Olive Oil, Grapeseed Oil, Soybean Oil (NON-GMO), d'Alpha Vitamin E Oil, Cedarwood Essential Oil, Chamomile Extract, Ginger Root Extract, Stinging Nettle Extract, Rosermary Essential oils, Rosemary Extract, Thyme Extract, Lavender Essential Oil,  Lecithin, Peppermint Essential Oil, Tea Tree Essential Oil, Saw Palmetto, Pumpkin Seed Oil, Neem Oil. 
Instructions:
Always do a patch test 24 hours prior to application.

1. Part hair into 1/4 sections and apply directly to your entire scalp.
(If wearing a protective style place spout between braids or tracks and lightly apply oil.)

2. Massage scalp after application for 4 to 5 minutes.

3.(Use oil every day for best results)

Take before pictures and measure your hair to accurately monitor your progress.
(Re-measure and track results every 7 - 14 days)
Use As Hot Oil Treatment:

You can also use this oil to do a hot oil treatment. Sit bottle in warm water for about 30 seconds. Use desired amount (according to length of hair), apply throughout the hair and scalp, cover hair with plastic cap for 20 mins, then wash out. Shake well before each use.
Satisfied
My hair always looks dry and dull since I've been using the products my hair is softer looks great love the texture of my hair plus it's growing
Best
Love, love, love words can't express how great this product is
Wonderful product
Listen, I tried so many different hair growth products, this right here is the truth. It not only grew my hair, it thicken it as well
Best product
My hair has improved from thinning and hair loss in different spots. All my spots and thinning is no longer. I love the natural and organic ingredients.
Great Product
I used this oil at the beginning of quarantine and it grew my hair a lot after I did the big chop again. I love the smell too.